Super VGA – Pharmacy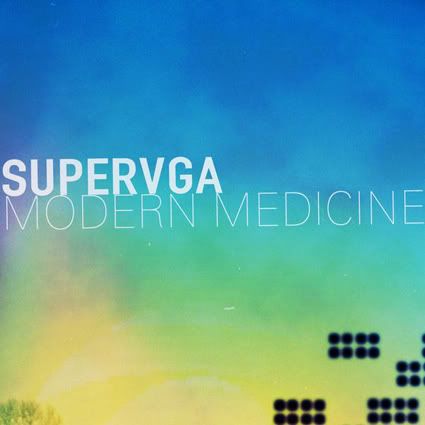 I received this highly contagious track from Super VGA's new album "Modern Medicine" and like Rhianna's umbrel-uh-uh-uh, I can't seem to get it out of my head. Here's some info Jeff sent over about the song Pharmacy: I don't know if it's always been conscious, but we somehow tend to find a balance between happy, approachable sounds and somewhat desperate ideas. I got this cheery little loop that Ryan had thrown together in my inbox at one confusingly/humorously(?) low moment of my adult life and I sent him back the first two verses and half a chorus an hour later. The initial demo wasn't refined into a proper song until about a year after that.
SuperVGA is Jeff Waldron (Los Angeles), Ryan Wardell (San Francisco) and Vic Stafford (Atlanta). The three live in separate cities and have been collaborating electronically for years. You can checkout a video on how that 3-way process works here. Modern Medicine is out now digitally (iTunes, Amazon.com, emusic.com, Insound.com), with an official CD release date on October 14th.
Super VGA – Pharmacy from Modern Medicine, 2008
No Comments so far
Leave a comment
Leave a comment