Contest Winner! – Girl Talk @ Emo's Tonight
Girl Talk MySpace
Illegal Art Website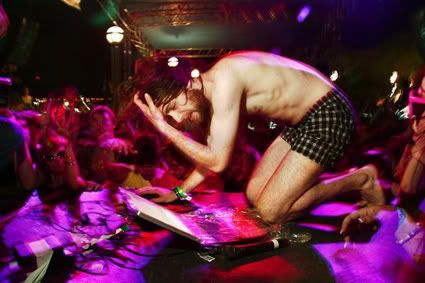 Contest Winner announced for Girl Talk show at Emo's Tonight, October 20th.
A winner for what RLS contest you ask? Instead of recycling posts about the same over-blogged indie bands like some *coughs* indie music blogs do, I prefer to steal contests and reward runner-ups instead.  What, flowers and no crown? Booooo. My blogging compadre over at AustinSoundCheck.com gave one lucky commenter a chance to see Greg Gillis mash it up at the Sold Out show tonight in Austin. I think the WTF/LOLcat was okay, but I chose to award a ticket for  the brilliance of the Gillis-esque copy/pasting style that went into the creation of the "Austin Sound Check Mash-Up", which goes a little something like, like this. Our winner has agreed to provide a mash-up review of tonight's show, which I will be attending as well. Yay for us!
…………………………………………listen…………………………………………
Girl Talk – Once Again from Night Ripper, 2006
Girl Talk – Let Me See You from Feed the Animals, 2008
…………………………after the show…………………………
Emo Girl Talk Mash-Up Review:
Sold Out Show! Girl Talk Tickets! – $75 (west campus)
$3 PBR*
….Girl Talk, gIrl TaLK, girl talK, GIrL tALk, gIrl TAlK, girl talk, GiRl TaLk….
Toilet paper power tools?
sweat
"Give it up for Grand Buffet"
Confetti_Confetti_Confetti
WANTED 3 Girl Talk Tickets for a REASONABLE price
Freddie Krueger=John McCain
AMAZING, HOLY SHIT, BADASS, YES!
beach balls***
WE LOVE YOU GREGG!!!!!..….but I'd rather get some head
Underage chicks' hands with Xs
sweat
"it's fuckin hot Austin"
!!!!!!!!!!Big floating condoms!!!!!!!!!!
Heyyyyyyyyyyyyyyy we want some pussssssssssssssy
"Alright guys I got time for 1 more"
sweat
We're poppin' champagne like we won a championship game
review by:
stewart jarmon – Girl Talk Austin,TX EMOs OCT 20th, 2008
1 Comment so far
Leave a comment
Leave a comment