The DJ versus the Singer: How Donna Hightower Made Me Despise Sonny J (without knowing it)
There's a lot of confusion as to what defines a DJ these days. Well, I'm confused anyways. The official definition says "a disc jockey (also known as DJ or deejay) is a person who selects and plays prerecorded music for an audience, evidently." This would be a Samantha Ronson-style DJ, clicking a button on her Mac between tracks, Marlboro reds and Lindsay Lohan. Then on the other hand you have DJs like Girl Talk, who has been known to sport an "I'm Not a DJ" t-shirt. He plays prerecorded music, but it's original music that he's created by mixing together several pieces of other prerecorded music. On the other side of the spectrum you have DJs like RJD2, that are also musicians. He creates original tracks by using samples from other sources plus music that he's created using various instruments. (Side Note: After seeing his sold out show back in April, it's safe to say that the masses would prefer he spin, rather than sing). Where am I going with all of this? I'm not sure, but I'm angry and I have a bone to pick (and I'm not even a meat eater). If you're using other music to create your own, then give credit where credit is due regardless of which type of DJ you are.
If someone uses a song to create their own track, it's out of respect for the original creator that credit is given. All of the sources of Girl Talk's tracks (see: Girl Talk Wiki) are cited, and some of these popular remixes include samples of over twenty songs. So why is it that when a single song is used, you rarely see any cred given to the original singer?
Case in point: I heard this song (below) a few months back and after watching the video my initial reaction was, "Who's that white girl? Great voice, great lyrics, I want her albums!" (YouTube commenters seem to share the same opinion). If you haven't seen this video in all of its MTV-style cheesiness (aka: a "funny" intro, a dramatic song pause and a "to be continued"), then take a gander and a listen to see if the same question enters your mind:
Sonny J : Handsfree (If You Hold My Hand)
from Disastro, 2008

After watching this, I did some digging (the word "some" being an understatement). I did a lyrics search only to find that the actual singer is not the hot white girl, it's Donna Hightower. After checking the YouTube video page once more, along with Sonny J's website and MySpace page, I couldn't find a single reference to the original song that sounds almost the same, but even better (scroll to the very bottom to listen for yourself).
About a month after my findings, I checked Sonny J's MySpace page again to see if any credit had finally been given to the singer only to find the following post:
Date: Tuesday, June 03, 2008
Subject: DONNA HIGHTOWER ROCKS MY WORLD
"big thanks to everyone who has supported sonnington through the power of myspace or wherever . you should be able to buy or steal " handsfree" from most record shops from the 9th, just likes i dids with donna hightower's tune. this is funk legit. so,git yo asses in gear n …. happy shoppin' folks…"
So the subject line was okay, but I'm not digging his use of poor grammar and misspellings or the fact that he admits to stealing the song: "just likes i dids with donna hightower's tune". I also don't dig the fact that not only does he use a lame-ass MySpace post as his only outlet for prop giving, but he also has a dancer lip-synch Donna's song in that lame-ass video.
In closing, if you're going to throw a few beats in something and then label it as your own, at least give credit to the original creator! …and learn how to f'ing write a sentence, yo.
So, here is some credit to you, Donna Hightower. Listen to her songs, watch her videos and then go buy Donna Hightower records.

The only bit of information on the singer I could find is the following from Ron Wynn at All Music Guide:
"Little" Donna Hightower had a dynamic, big voice and made some fine shouting records for Decca and RPM in the '50s. Unfortunately, she never landed any hits, but that wasn't due to any lack of skill. She not only had range and power, but was equally compelling doing sentimental, soft ballads. She was backed by the orchestras of Horace Henderson and Maxwell Davis on the Decca and RPM material, respectively.
Enjoy.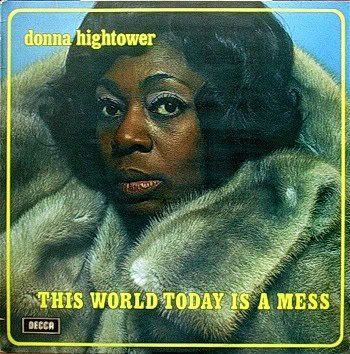 Donna Hightower – This World Today is a Mess

Donna Hightower-Kiss Me (Bésame)

Donna Hightower – Stormy Weather

Donna Hightower – If You Hold My Hand

Donna Hightower – If You Hold My Hand Lyrics
If you hold my hand, things won't be the same.
If you hold my hand, things are about to change.
Summer's gone, spring is gone, life goes on and on and I'm just bored to tears.
If I could find a little space to paint a smile upon my face and hide the years.
If winter comes and I'm around to see the snow upon the ground, what can I do?
When I don't have the will to fight,
the coldness of the summer nights are the darkest blue.