Is DDT causing CCD? And what's next, tree museums?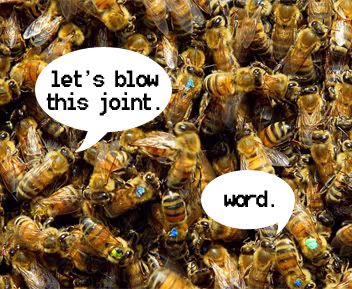 Hey farmer, farmer put away that DDT, now. Give me spots on my apples, but leave me the birds and the bees. Please.
I heard this song from the seventies last night and couldn't help but to instantly think about pesticides and the perplexing disappearance of the over-worked and under-appreciated honey bee.
Although DDT isn't directly listed as a cause of Colony Collapse Disorder, pesticides have been included in the list of factors that may be to blame for honey bee loss.

"Colony Collapse Disorder (or CCD) is a little-understood phenomenon in which worker bees from a beehive or Western honey bee colony abruptly disappear. From 1971 to 2006, there was a dramatic reduction in the number of feral (wild) honeybees in the US (now almost absent); and a significant, though somewhat gradual decline in the number of colonies maintained by beekeepers. However, late in the year 2006 and in early 2007 the rate of attrition was alleged to have reached new proportions, and the term "Colony Collapse Disorder" was proposed to describe this sudden rash of disappearances. The cause or causes of the syndrome are not yet well understood. Theories include environmental change-related stresses, malnutrition, pathogens, mites, pesticides, radiation from cellular phones or other man-made devices, and genetically modified crops with pest control characteristics."
(Excerpt from Colony Collapse Disorder)
Don't it always seem to go, that you don't know what you've got 'til it's gone?

"The steady increase in beekeeper migration has masked the issue of pollinator decline from much public awareness, however sudden blocks to such migration could have catastrophic results on the global food supply."
(Excerpt from Pollinator Decline)
Bees aren't the current root of rising food costs, but one day, perhaps? Until then we'll keep our fingers crossed that they don't keep hopping in that big yellow taxi with Joni Mitchell's old man.
See also:
List of Plants Pollinated by Bees
Bees and Toxic Chemicals
Pesticide Toxicity to Bees
No Comments so far
Leave a comment
Leave a comment