Clinic with BBQ at Emo's – May 23rd, 2008 – Austin Indie Concert.
Playing Emo's May 23rd in Austin, Clinic with BBQ (Mark Sultan from The King Khan and BBQ Show).
Clinic was formed in 1997 and despite the widespread critical acclaim received throughout the years, the band has remained true to their Indie roots. Free from the restrictions of mainstream music, Clinic has an untainted, unique sound that has been more important then the dollar signs that follow pleasing the masses by going major. Clinic described their 2004 album, Winchester Cathedral, as, "a dense mass of psyche and senseless music hall, it was Clinic doing what they do best – ignoring the tenets and trends of the music industry." In 2007, the band played with such acclaimed acts as Roky Erickson, and also toured with the ever-so-awesome Arcade Fire. What to expect during a 2008 concert? For their US tour, they've asked fans to pick the setlist, which often includes obscure songs that the band wouldn't normally play. They'll likely play all of the new album songs during the first set, and then the older songs in the second. They've also mentioned a tropical theme for the new tour, which from what I've gathered (see new video below) includes using the steel guitar a bit more, while wearing Hawaiian shirts with their trademark surgical masks.
Clinic MySpace
Clinic Wikipedia
Clinic Website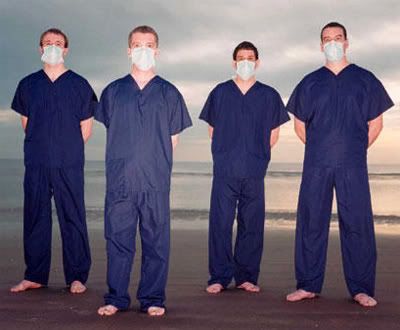 Clinic – The Witch (Made to Measure)
from Do It, 2008

Clinic – Come Into Our Room
from Walking With Thee, 2002

See also:
Clinic – Distortions (from Internal Wrangler, 2000)
Clinic – The Second Line (from Internal Wrangler, 2000)
Clinic – The Magician (from Winchester Cathedral, 2004)
Clinic – Harvest (from Visitations, 2006)
Clinic – If You Could Read Your Mind (from Visitations, 2006)
Mark Sultan/BBQ MySpace
Mark Sultan/BBQ Wikipedia
The King Khan and BBQ Show – Why Don't You Lie
from In the Red, 2007

No Comments so far
Leave a comment
Leave a comment