Lo-Fi '09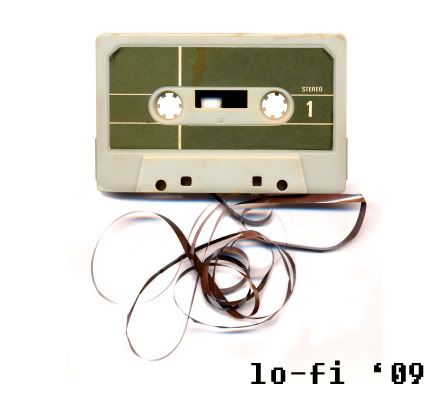 ……………………………………defined……………………………………
Lo-fi (Low Fidelity)= A term used to describe music in which the sound is of a lower quality than the usual standard. The qualities of lo-fi are usually achieved by either degrading the quality of the recorded audio, or using certain equipment.
……………………………………………………………………………………
LO-FI! All the cool kids are doing it! With emo fashion in 70′s time warp (dare I say, 50′s?), it comes as no shock that lo-fi is the new black of indie music.
The mouse-clicking-nerd-at-his-computer-desk that remixes several good songs, into one good song, is now being overshadowed by the comeback of original songs and traditional instruments. Remember those?…acoustic guitars…snare drums. Yes, these instruments may still sit at the feet of the mouse-clicking-nerd-at-his-computer-desk *that also sings!*, but damn these little gems do sound good. (GarageBand, the Apple recording software that boasts the tag line "Musicians wanted: No experience necessary", is used by Nathan Williams of WAVVES to record songs *see Spin's "Hot New Band: Wavves").I personally respect artists that play their own instruments, but I also like any song that sounds good regardless of how it was made.
The fact that lo-fi indie songs are gaining so much popularity over the past few months doesn't baffle me. What has me scratching my head in a Homer doh!-like fashion, is the abundance of "THEY SUCK LIVE!" comments being spewed by Indienites all over YouTube vids and blog posts. It's like saying "Dude, he sucks!" after watching a performance from the Chipmunk rapper. You know the guy… he's been featured in popular radio rap hits like Akon's-"Lonely", and he just scored a hit role in the indie world with Passion Pit's "Sleepyhead". Yes, he even sings in different languages! Does this high-pitched vibrato-voiced rodent ever sleep? He could sell out stadiums! That is, if he were a performer, and not a popular method of vocal distortion…
In a nutshell (pun-intended): Support the lo-fi band you like by purchasing their albums or going to their shows and having a sing along, but don't expect their performance to "sound the same" live. Listening to lo-fi in the 2000′s is like getting a new shirt that looks like it's from the thrift store: It feels a bit pretentious, but people are buying it (myself included).
……………………………………mp3s……………………………………
My Top 5 Fave Lo-Fi Songs at the Moment:
Best Coast – Sun Was High (So Was I)
Trailer Trash Tracys – Strangling Good Guys
Smith Westerns – Be My Girl
WAVVES – Friends Were Gone
The Mayfair Set – Desert Fun