About the Song: [Bogie Ogreton - "No Good at Nothing"]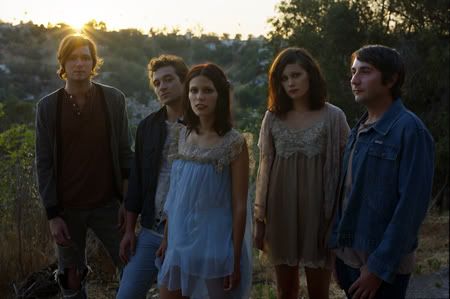 ……………………………………mp3……………………………………
Bogie Ogreton – No Good at Nothing
…….…………….……………………….……….……………….………
Vanessa Jeanne Long to Recycled Love Songs on the track "No Good at Nothing":
"I was sitting in that one position that's completely derogatory towards Native Americans, on some sort of hideously awful matted red rug. He was a mime of sorts, the man that left it here I mean, and he had set up shop and shuffled out, long before we came to this space in Rosemead and claimed it as our brand new Wonderland. And this red rug, well it probably shoulda been tossed in the garbage with all the rest of the junk, but it wasn't. And my legs were tired. And so therefore, I was sitting on it.
I had just gotten back from Joe's hometown, Martha's Vineyard. I would've stayed longer, really — it was that nice — but I didn't want to be considered a Wash-a-Shore. They have this music space there, Peacegate, that's a lot like our space in Rosemead, except entirely different. And they had all these lovely unpainted ladies that could play instruments galore and sing like that voice in Ursula's Shell in The Little Mermaid. It was impressive, to say the least. All this multi-tasking going on, and talent to boot, feminine wiles and all that, and me sitting there, taking pictures with my dinky little camera, pretending I was good at that. Which I wasn't. But I definitely wasn't about to go around staking my claim on any sort of instrument.
Flash forward to me sitting pretty on said ugly rug. One of the girls from the Island had come to visit, and I was watching her play music, and she was so good at everything. And me? On paper, sure. Tennis, soccer, theatre, pottery, horticulture, baking, being charming….. You name it. I took classes in it. I just couldn't follow through with following through. My parents were beyond supportive of me and my extremely embarrassing endeavors. But time took its toll, I left the nest and I've been sort of flitting and building and collecting straw and weeds ever since. I'm a great fast food reviewer. I can name every public restroom in Los Angeles. I'm A+ at Googling. I can identify any sort of dog breed or concocted dog breed. I'm good at MarioKart. And I guess, I thought, when I wrote this song, that the buck stopped there.
So I sat on said ugly rug. And I wrote this little number. And I'm assuming most humans can relate to falling short and falling hard. And probably, most likely in front of one's Ultimate High School Crush that one thought they might see again — any day now really — that hopefully this time, one might be on top of things and ten pounds thinner with something super hilarious and witty to say. And if you can't relate to that, then feel free to stop reading this and downloading now and pretty please come play things you're halfway decent at with us. Thank you and goodnight. Or good morning. And if it is in fact morning, please feel free to eat a piece of bacon for me.
Yours truly until further notice,
- V
5 Comments so far
Leave a comment
Leave a comment