Man Man with Yeasayer at Emo's – April 30th, 2008 – Austin Indie Concert.
Yeasayer MySpace
Yeasayer Wikipedia
Yeasayer Website
Man Man MySpace
Man Man Wikipedia
Man Man Website
Playing Emo's April 30th in Austin, Yeasayer and Man Man.
After the Emo's show: La, la, la, laaa. I can't help but crave old Smurf episodes after listening to Man Man. Their songs play out like cartoon themes with a raunchy pirate lead, singing lyrics that are too deep, dark and insightful to precede anything that isn't real. As was expected, the band didn't stop moving. Neither did the crowd. This crowd I speak of included jumpers and arm throwers, head bangers and shoulder climbers. One of the pack attempted to climb the rafters, while a guy much taller then I exclaimed, "dude, there's people f***king crowd surfing at a Man Man concert!" The packed house included other word exchanges like, "last time I saw them here, you could actually walk around". Man Man took a break only once to return to the stage with more energy in a lengthy encore that included favorites like "Van Helsing Boombox". Their live show will make you crave their albums more. Yeasayer was a great opener to set the momentum. With Anand Wilder's left hand constantly moving and pointing to the sky, the group belted out great rhythmic harmonies with deep bass lines and drum beats. An all together must see that left me sweaty and tired, but too wound up to sleep. And alas, I say this as your typical arm-crossed, toe-tapping silent observer.
Man Man – Van Helsing Boombox Lyrics
Only time will tell if I'll allow the scenery around to eat me alive. I want to sleep for weeks like a dog at her feet, even though I know it won't work out in the long run. So I burn down the walls, breathe like a shadow. Those arms I once knew, hold me like ghosts. I learn how to speak forgotten language. I fall in the sea, but forget how to swim. When anything that's anything, becomes nothing that's everything, and nothing is the only thing you ever seem to have.
———-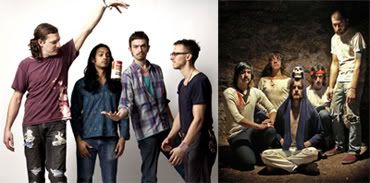 I prefer listening to Yeasayer over Man Man, but the latter is said to put on a must-see live performance. Post-show comments contain phrases like "best live show ever" and "damn, I never stopped moving". In Man Man's own words, the band doesn't stop moving. "Man Man does not break between songs during their live shows, but rather moves, revolving-door fashion, from one song to another, commandeering and discarding any of number of the instruments lying at their feet as the mood strikes and the music dictates." Instruments played on stage include the piano, clavinet, microkorg, sousaphone, flute and marimba. Random noise makers include pots and pans, squeaky toys, cap guns, chopsticks, old shoes, fruit and stuffed frogs. Stuffed frogs? Yeah, stuffed frogs. Honus Honus notes that of his influences, being broke is one of the biggest and he is also fueled by the ever-so-famous musical motivator of "being in and out of relationships". The opening act, Yeasayer (pronounced: yay-say-er), has been known to move the crowd in a different way both visually and musically. They often play different variations of their songs during live shows and their vocal harmonies are said to be well worth witnessing in person. With a sound that is hard to classify, the band notes their genre as Visual/Gospel/Showtunes. A trio well worth checking out.
Yeasayer Fan Favorites
Yeasayer – 2080 (Fan Made Video)
Yeasayer – Sunrise (Fan Made Video)
I'm so blessed to have spent the time, with my family, and the friends I love in my short life, I have met, so many people I deeply care for.
Yeasayer – Red Cave
from All Hour Cymbals, 2007

Something told me it was over, when I saw you and that girl talkin'. Something deep down in my soul said 'cry, girl' when I saw you and that girl walkin'. Oh I would rather, I would rather go blind boy, then to see you walk away from me.
Man Man – I'd Rather Go Blind (Etta James Cover)
2006